Doctor's Orders
War has always historically been a team effort. When men went off to fight, women held down the fort at home. Think of victory gardens in World War II. Think of homespun made during the American Revolution to avoid British tariffs. Think of my mom trying to suppress drama at a military spouse meeting at the Olive Garden when my dad was deployed.
The division of labor has historically been no different in royal families. The kings and princes would head to the battlefield, leaving their wives behind. While this did not always result in women gaining more political power, they were expected to lead their countries through the hardest of times by example. Time and again, royal women have risen to the occasion in a variety of ways. Often, this included fundraising and morale boosting for the troops. For Queen Elizabeth during World War II, it meant working full time in the Armed Services as a mechanic in London! But far and away, the most popular way royal women have served their countries is by scrubbing up and serving the sick and suffering in hospitals. Today we honor some of these medical queens, and another modern princess that has followed their lead during the coronavirus pandemic.
---
The Romanov Women
By now, you're probably tired of our obsession with the Romanovs, but too bad. As ill-suited as Alexandra was for public life, her personality was well fit for her efforts in healthcare during World War I. She converted one of the royal palaces into a field hospital, and her oldest daughters, Olga and Tatiana, worked there as Red Cross nurses. The younger girls, Maria and Anastasia, volunteered visiting the sick and wounded soldiers. While Alexandra was criticized by some for taking on this work instead of caring for all of her people more publicly, the success of the hospital in hindsight is a huge testament to her love for Russia. Romanov biographer Helen Rappaport writes that Tatiana in particular "proved to be an exceptionally gifted and courageous nurse who – had history been different – might have been a pioneer of women's nursing."
---
Princess Arthur of Cannaught
Princess Arthur, as she was known after her 1913 wedding, was the granddaughter of British King Edward VII. Her private writings were published as A Nurse's Story. In them, she wrote, "Ever since I can remember I wanted to be a nurse…but I never thought there would be the remotest possibility of my dream coming true." World War I gave her the opportunity to move beyond hospital patronage and make her dream a reality. After the war, she continued working, and held positions at four different hospitals during her career. Later, she bought and ran a nursing home until her death.
---
Princess Alice of Battenberg
If you watch "The Crown," you know that Prince Philip's mother, Queen Alice of Battenberg is an endlessly fascinating woman, and one that we hope to write more about in the future. She married into the Greek royal family, and used her influence to run field hospitals during the Balkan Wars, where she served as a very hands-on nurse. Despite battling congenital deafness, mental illness, and political exile, she maintained her charitable spirit throughout her life. During World War II, she not only sheltered a Jewish family, but also smuggled in medical supplies and ran soup kitchens in Greece. In 1949, she founded the Greek Orthodox Christian Sisterhood of Martha and Mary, a religious order of nuns who nursed and tended to the sick and poor.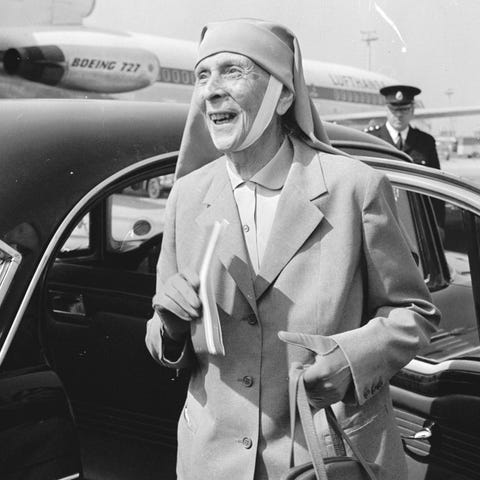 ---
Princess Sofia of Sweden
Last week, we introduced you to the Swedish Royal Family. In April, Princess Sofia created a media frenzy when the model-turned-royal decided to take a more hands-on role at the hospital where she holds an honorary chair position. After taking an intensive online course, she started work in April assisting healthcare workers with non-patient related tasks in hopes of easing the burden of the coronavirus pandemic on doctors and nurses. Plus, she looks great in a pair of scrubs.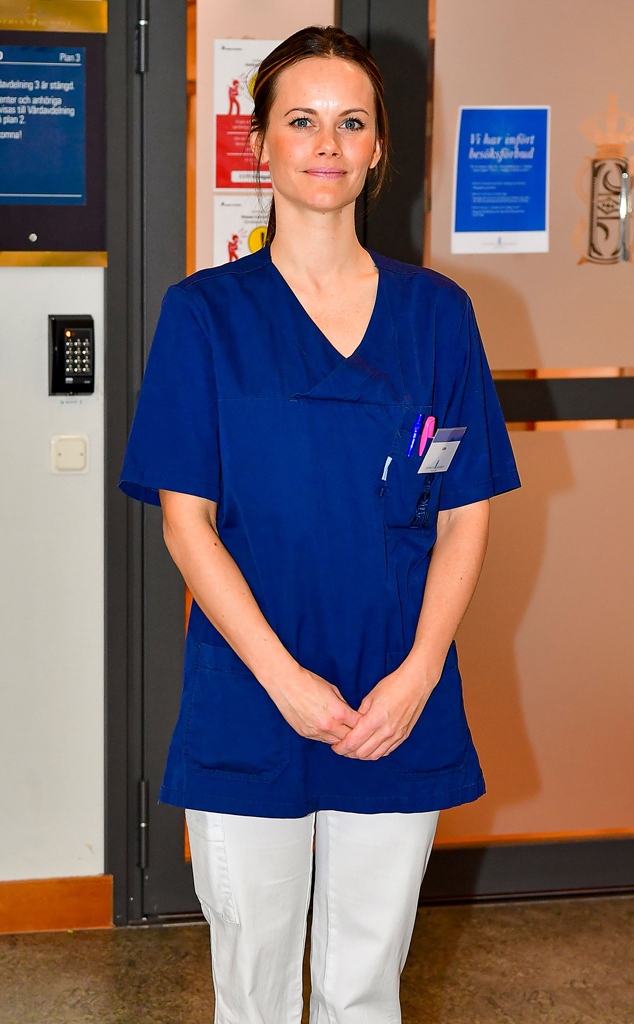 ---
References
A nurse, a banker and… a TV producer? The royals through history who have held other jobs. (2020, March 19). Retrieved from https://www.historyextra.com/period/20th-century/working-royals-harry-meghan-history-what-might-happen-next-careers-jobs-work-queen-money/
OTMA – The Romanov Sisters. (2018, September 09). Retrieved from https://helenrappaport.com/russia/romanovs-revolution/otma-the-romanov-sisters/
Princess Alice. (n.d.). Retrieved from https://www.yadvashem.org/righteous/stories/princess-alice.html
Petit, S. (2020, April 16). Princess Sofia of Sweden Scrubs in at Hospital to Clean and Cook During Coronavirus Outbreak. Retrieved from https://people.com/royals/princess-sofia-of-sweden-scrubs-in-at-hospital-to-clean-and-cook-during-coronavirus-outbreak/